Over the last year, I have had the opportunity to review many products and meet some great people.  This one is no different.  I am thrilled to be working with Ashley – the woman behind Littlest Bit.  She has been wonderful to communicate with during the process of reviewing these slings.  When she gave me the opportunity to not only review a ring sling, but also a kids ring sling, I was ecstatic!  You see, I have wanted a ring sling since my daughter was born two years ago.  And…I was planning on getting my daughter a sling of her own for her birthday, so this worked out great!
Ashley became a mommy in 2003 and baby slings and carriers were not available to buy anywhere where they lived at the time.  She ordered one online for way too much money, and immediately feel in love with baby wearing.  From there, she began making her own ring slings.
When her second son was born, she began using pouch slings for awhile, then went back to ring slings as he grew.  She loved both styles, but never gotten into the baby wraps.  She felt swallowed up by all of the fabric so she stuck with making pouches and ring slings for friends.
When her niece was born, she started making girly dresses and tutus and dolly slings for her and loves seeing her nieces face when she gets a new handmade present from auntie.  Her niece is the model for most of her pictures and I agree, she is adorable!
She converted their never used formal dining room into her craft room.  Her friends suggested she sell her creations on Etsy and she decided to go for it (thank you friends)!
Why Littlest Bit?  Her father use to tell her she wasn't "bigger than two bits" and still calls her Bit.
Ashley is doing what she loves and is thrilled to be sharing it with others.  Hearing that others love what she does is one of the best feelings for her.
I find it really cool that this is Ashley's only job!  She puts her heart and soul into Littlest Bit and it shows. (It's true, even the tag says Handmade with Love – and tags don't lie).  Take a look in her shop (especially if you have a girl) and you will be giddy with excitement and want to buy it all!  I periodically check her store again and it is a very bad idea for me!  I do not have money to be buying my daughter tons of cuteness at the moment, but there is so much in her shop that is just screaming my name (well, okay, Maggie's name).
When we received our slings, we were only stopping at home for about 10 minutes, but rest assured, I opened these slings up immediately, put mine on, put Maggie's on and put her baby in it.  When we had to leave 10 minutes later and take her baby out to buckle her in the car seat – she had a screaming fit!  She was having so much fun with it.  We took it to our friends house and put the baby back in there and it was THE. CUTEST. THING. EVER!!!  She walked around playing basketball with her baby in her sling.  She even stops and bounces a little and pats her babies little butt just like I do with Charlie.  Seriously, there is nothing cuter in the world than watching her play with this!
When people see us with our matching slings, it's so funny the jaw dropping and awwww's we hear.
The Littlest Bit ring slings we received are made of 100 % preshrunk cotton with aluminum rings.  I LOVE the fabric Ashley chose for our slings.  We said any color is fine, and love the color she chose.  It's a black, yellow and gray pattern.  We received the pleated ring sling, but if you do not want that, she will make them without the pleats also.  I love the pleats, it gives the sling such a nice look.
For anybody with more than one young child, baby carriers of some sort are a definite must!  I found with him, I NEEDED a sling of some sort that was really easy to breastfeed him in so I didn't have to keep telling his sister she had to wait until he was done before we could go for a walk.  Little Charlie man loves being close and snuggled (who doesn't) and this sling makes it easy.  Today, I wore my daughter in it into the school where we have baby class – usually she walks, but she was sleep and had just woke up from a quick little nap so I decided to carry her.  We got tons of comments on how cute the sling was and how easy I made it look to carry both of my children into the school (Charlie was in his car seat sleeping).  To be honest, that was the first time I had used this with Maggie.  I was impressed with how easy it was to put her into the sling and how light she seemed compared to when I have Charlie in his car seat and her in my other arm.  I love how the fabric spreads across my shoulder making it more comfortable and spreading the weight out a bit more.
When using the sling with Charlie man, he doesn't care to be laying down, and prefers the more upright carry.  Putting him in it is really easy.  I will admit, I was a bit intimidated at first because I wasn't sure if I was doing it right although he felt secure and it was comfortable.  I went to youtube to be sure I was doing it right, and was happy to see I was.  The sling is so easy!  Just get it to where I can slide baby in and then just tighten it by pulling on one of the sides of the tail to tighten it.  Take a look at the videos below to see just how easy it is to use and how cozy and happy baby looks.
I really like how easy these are to wash up.  Simply toss them in the wash and that's it.  No worries about it coming apart or shrinking.  I like simple!
Please Please Please check out her shop!  You will fall in love with something!  Here is what I am in love with!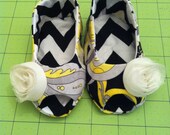 She has such a huge selection of stuff!  Bibs, shoes, cloth diapers, pouch slings, ring slings, dresses and so much more!
*I received these products for the purpose of this review.  All opinions are 100 % my own and are only influenced by my own experiences with the product.*