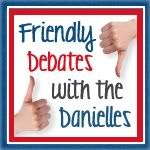 The Danielle's from  happenings of the harperhousehold  and  we don't have it all
host a weekly FRIENDLY debate about a "hot" topic.  This week, the question is children attending childbirths, yay or nay?  Everybody is entitled to their own opinions, so please be respectful.
For us, I would definitely love to say Yay!  When Baby #2 arrives in June, I would absolutely love for our daughter to be in the room with us.  What surprised me the most, was that when I mentioned this topic to the man last night, he thought it was a great idea as well.  I want our daughter to be there and enjoy this magical family moment with us.  But….in reality, most likely she will not be in the room.  This pregnancy, I tend to randomly cry a lot, and she gets really upset and climbs up on me and smothers me with love.  I think that seeing me in pain would be too hard for her and that she would want to be with mommy instead of being held by somebody else.  Maggie will be 20 1/2 months old when the baby arrives.  I know she loves the baby, she kisses my belly all the time and says hi to baby.  But I also know that she doesn't quite realize what exactly I'm talking about when I ask if she wants to kiss the baby. 
As it is, when the man tries to get too close to me, she pushes him away.  I know this is normal, after all, she stays home with me or goes to work with me so we are pretty much inseparable, the other part of it is that she still nurses and does not like anybody else to get near her boobs 🙂  Things may change in the next few months, and that would be great if I felt like she would do okay in the room with us during the delivery.  No matter what, I plan to have her with us as long as possible. 
She is so loving and sweet now, I also worry that I would get distracted and focus on her instead of my mission at the time – to give birth to my new baby.  I know for a fact that she will just love up the baby right away.  Today, we went to the hospital to visit a friends new baby that was born today, and when I was holding the baby, Maggie climbed on my lap and gently touched the baby stroking her head and hands.  That is a moment I would love to have immediately when this baby is born.
I can understand why parents would be uncomfortable having their children in the room with them, but for me, I am pretty open about things and want her there. 
What do you think?  Yay or nay?  Leave a comment or link up!