Are you ready for my final spotlight post for Merry Fluffy Christmas?  Are you loving the sponsors so far?  Well, you are going to love this one too!  Source has offered up one of their diapers as part of Merry Fluffy Christmas!
 Source Diapers is located in Connecticut and owned by a wonderful mom to 3, Carrie.  Carrie spends her time sewing and designing, while also pursuing culinary arts.  She originally worked in Landscape Design, has a background in art and design, but after having kids, became a graphic designer and started Sugar Peas Cloth Diapers in 2002 which she eventually sold.  With her passion for cooking, she started working as a chef in 2006.  3 years later, she opened Zest, a farm to table restaurant in Connecticut.  She is a big cloth diaper and natural baby products advocate.  She believes in cooking with local, naturally produced foods and is involved in the local Farmer's Market.
Source diapers offers side snapping fitted diapers, AI2 diapers, wool and designer bibs and burp cloths.    Be sure to check out Source on Hyena Cart to see the latest and greatest she has to offer.  Or follow Source on Facebook to stay up to date.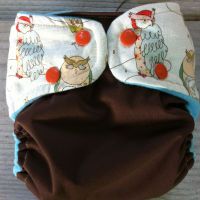 I love this!!!
Which diaper do you like best from the Hyena Cart shop?  Do you prefer fitted or AI2 diapers?  Have you ever tried wool?  
Oh yeah, don't forget to enter to win your choice of boy, girl or gender neutral diaper during Merry Fluffy Christmas!