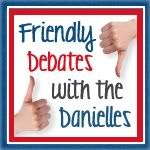 Topic of the week:  Easter Bunny – yay or nay? 
For us, definitely a yay!  
While I know that Easter is not about a bunny and candy and Easter baskets, it is a tradition in our family.  I know that Maggie will know what Easter is really about, but I believe we can still learn that and do the things we do to celebrate Easter.  I love Easter, it's so pretty 🙂   Last Sunday at church, they handed out palm fronds and Maggie held ours and waved it like everybody else.  Easter Sunday, we are supposed to bring our palm fronds and the nail they gave us and we are burning them.  I know Maggie doesn't understand that now, but along with the lesson of the day, I know when she is older, she will be able to actively see what is going on, not just hear about it.  
What's up peeps?
First time dying eggs….or trying to eat the newspaper anyways.
For Easter, our family gets together after church and we have an egg hunt for all of the kids (and sometimes the adults).  Maggie is the youngest of 8 grandkids, and this year I am really excited to see her find the eggs.  We are getting together tomorrow to dye our eggs.  The Easter Bunny leaves an Easter basket "hidden" at our house, and at Grandma and Grandpa's house, everybody gets an Easter basket.  Once you are an adult with a significant other, you get one to share, but the kids always get their own.  Sam, who is the oldest of the grandkids, couldn't find her basket one year.  The Easter Bunny hid it so well and couldn't remember where.  We all searched and searched and never found it.  At least she was a teenager and old enough to laugh about it.  We did find the basket eventually…..that year at Christmas when we needed the huge kettle to cook dinner.  Last year, the adults got a new kind of treat in our baskets:  tickets to the raceway park.  Most of us used them at once as a family gathering to go to the races.  It was pretty fun 🙂  The year before, we got gift cards to go golfing.  We haven't all used them because we keep trying to plan a date for all of us to go together. 
We have a big dinner and stuff ourselves, then we play games.  Depending on the weather, that may be volleyball.   
Liking the Harley Davidson Easter Bunny
Easter basket from Grandma Jamie
Easter basket from Mom and Dad
Easter basket from Grandma Nancy and Grandpa Ron
Pictures from this years Egg Hunt.  Maybe tomorrow I will be ambitious and add the pictures from dying eggs….probably not.  
Sharing her rock with the Easter Bunny
Hmm…how do I get to the candy?