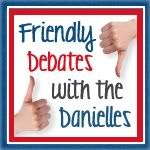 We do have a few rules… or rather guidelines… that we would appreciate being followed:
1.) Please follow the hosts via GFC:
Danielle B.
&
Danielle H.
2.) If you link up please leave a comment so we can visit you.
3.) This is a meme, so you MUST answer the question in a blog post.
4.) Link directly to the blog post in which you answer the question.
5.) Grab the button and place either in your post or on your blog.
(You can find the html code in my right side bar).
6.) At the end of your post leave a suggestion for the following weeks topic.
If we choose your suggestion you will be mentioned and linked to in the following weeks post.
AND THE MOST IMPORTANT RULE
Please respect each others opinions. This means no bashing of other bloggers in comments on their posts. Kind words and genuine questions are encouraged. If you strongly disagree with someone else the place to address your view point is in a post on your own blog. If we find that you have blatantly disregarded this you will be removed from the linky.
TOPIC
Prenatal Genetic Screening: Yay or Nay? What do YOU say?
For me, I say nay.  When we were pregnant with our daughter, I was surprised when they asked us about doing testing.  When we told them no, I expected questions or something, but instead the nurse said that most people choose to not find out. That was a huge shock to me.  I figured we would be in the minority for not finding out.   Before our appointments, I asked John what he thought about all of the testing, and he completely agreed with me.  It doesn't matter to us.  We will love the child no matter what.  This is the baby we are meant to have, and we can't change the outcome no matter what, so we don't need to know.  
One of my friends' girlfriends was pregnant and due the same day as me.  They opted to have all of the tests done, and got a positive result on one of them (I forget which).  They stressed out so much about it and said that they would never find out again because they got a false result.  The baby was just fine!  
Now we are pregnant with baby #2 and still have no interest in having any of these tests done.  After all, we don't want to know if we are having a boy or a girl, so why should this be any different?
I can completely understand why some families choose to find out.  Some people need that time to prepare in the event something does show up.  For us though, not having this done was the right choice for us.  What about you?  
What about you?  Do you get the prenatal genetic testing?  Yay or nay?  Link up and let us know.   
Suggestion for next week:  Turning the car seat around before age 2.