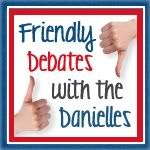 We do have a few rules… or rather guidelines… that we would appreciate being followed:
1.) Please follow the hosts via GFC:
Danielle B.
&
Danielle H.
2.) If you link up please leave a comment so we can visit you.
3.) This is a meme, so you MUST answer the question in a blog post.
4.) Link directly to the blog post in which you answer the question.
5.) Grab the button and place either in your post or on your blog.
(You can find the html code in my right side bar).
6.) At the end of your post leave a suggestion for the following weeks topic.
If we choose your suggestion you will be mentioned and linked to in the following weeks post.
AND THE MOST IMPORTANT RULE
Please respect each others opinions. This means no bashing of other bloggers in comments on their posts. Kind words and genuine questions are encouraged. If you strongly disagree with someone else the place to address your view point is in a post on your own blog. If we find that you have blatantly disregarded this you will be removed from the linky.
TOPIC
Returning Shopping Carts: Yay or Nay? What do YOU say?
I say Yay!  I always return the shopping carts to the cart corrals.  I know when I go to the grocery store in town, that I go there and pay a bit more for my groceries because they ALWAYS carry out my groceries for me because of the munchkin.  It's a family owned store, but this is one of my favorite parts of living in a small(er) town.  When I go to the Walmart (or somewhere else) that isn't nearly as close, it's definitely not as convenient, but I do still return the cart all the time.  Many times I just hold her until we return the cart, but sometimes I buckle her in her car seat and lock the door.  Most of the  time, there is a cart corral right next to us no matter where we are parked.  With munchkins dad working out of state most of the time, I am very used to doing everything on my own, so this just seems like one more thing when I'm out shopping.
What do you do when you are out shopping?  Return the cart or not?  Link up and let us know!
My suggestion for next week:  To cry it out or not?