This shop has been compensated by Collective Bias, Inc. and its advertiser. All opinions are mine alone. #GoldfishGameTime #CollectiveBias
I love being a homeschool family.  I can't explain the number of times the kids have wanted to do school work because they are having so much fun.  Our homeschool days are pretty flexible but one thing we like to do is have free day Friday. We don't do any book work.  We play games, go on field trips or do some special activities. Many of our games reinforce what the kids are already learning by having fun. They get to choose what we play and the activities I'm going to share with you have been a hit.   Check out how we kicked up the fun factor a notch this week and grab the FREE printables.

Before you start, you need a supply or two.  The first thing you need is somePepperidge Farm® Goldfish® crackers Cheddar 30 oz. Carton and some Pepperidge Farm® Goldfish® crackers Colors 30 oz. Carton that you probably already have in your pantry.  If you don't, you can grab the 30 oz. cartons when you stop at Walmart and pick them up while they are on Rollback for $6.46 in store only.  The only other thing you need is something to write with.  I laminated these so the kids can use them as often as they want and they just grab the dry-erase marker.
Click on the photo below to purchase at Walmart!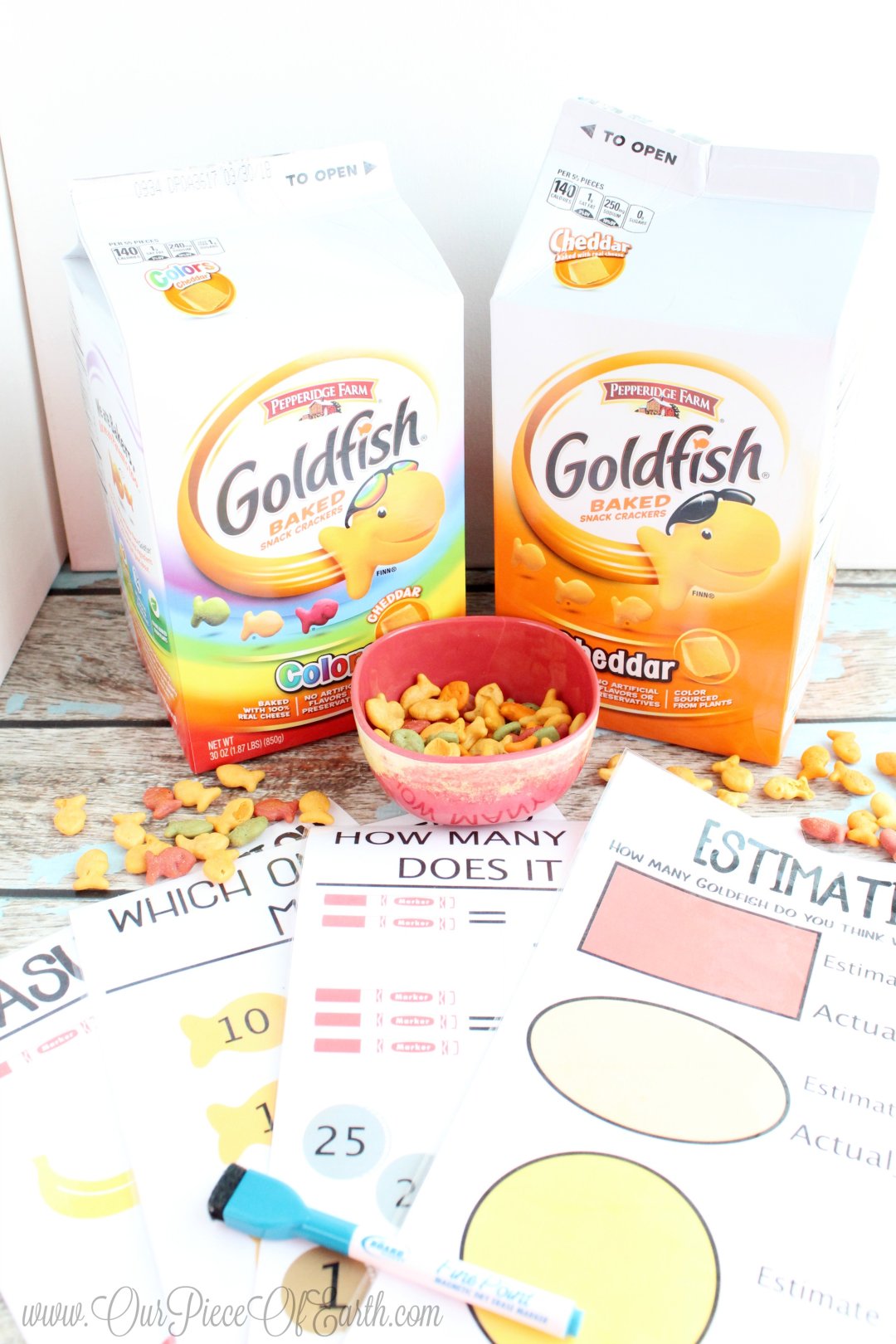 Measuring Fish
The kids love to measure things using random objects.  One time, it was pipe cleaners that my son was using to measure everything.  For the record, I'm quite a few pipe cleaners tall. This time, we are measuring things using Goldfish crackers.
Weigh the Goldfish crackers
Weighing things on our scale is so much fun.  Will they carefully add one at a time to see how many it takes without putting in too many?  Or will they grab a bunch and drop them in at once? After we figure out things like how many Goldfish to equal one quarter, we'll add in two quarters, three quarters or more.
Estimation
How many Goldfish crackers fit in a circle?  A square? An oval? Make your estimate first, then fill the shape with Goldfish crackers and count them.  How close were you to the correct answer?
I love when I give them a new game or activity and it's a hit.  We are a game playing family but the kids have informed me many times that they need a snack as they go or it just isn't as fun.  Mixing food and fun together is just one of those things that makes them super happy and they start telling me how amazing I am. So hit print on these FREE printables and start Goldfish crackers and gaming.  Have fun!
What fun things to do you to sneak in some learning fun without the kids knowing?