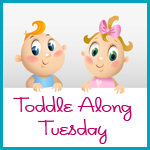 > >
I will start off by saying that The Man works out of state, usually weeks at a time.  He has always worried that Little Miss Monkey wouldn't love him or know him.  I tried to reassure him, but I always wondered what their relationship would be like.  Well, The Man has been laid off since Christmas, a blessing and a curse, but watching the two of them together has been so amazing.
Monkey is 16 months old and her personality is definitely shining through.  She likes to tease daddy with kisses and it's so adorable.  He rough houses with her much more than I do, and she loves it!  Today, he was installing some new child locks on our cabinets, so of course, she wanted to help.
And yes, Little Monkey has a screwdriver just like daddy helping out.  She actually kept pushing his hand away when he would use his because she wanted to do it all herself.
When she was born, she nursed all the time, so when she was mad, she needed mommy.  Now that she isn't nursing so much, she has lots more fun with daddy.  
She definitely has her daddy's temper though when she gets mad!  That's one trait I could do without.  Usually when he is gone working and only home a few days a month, she has changed so much.  It's been fun watching him realize when she learns something new and plays a new game with him because it's fun.  
Now as soon as she wakes up in the morning (she sleeps with us part of the night), she wakes him up with kisses.  It's so adorable and I must admit, I'm a little jealous that he's stealing my kisses!  One thing that he has done since she was born when he is working out of state is to call and read her a bedtime story.  Sometimes it's a story we have at home to so we can turn the pages as he reads, but most of the time, she nurses and falls asleep while he reads; that's the only way she will sit still with my phone that long.  Now she's older and she actually babbles to him a ton on the phone.  She will grab my phone sometimes and say dad-dy when she wants to call him.