I'm really trying to think of a catchy title for these posts.  Week in review is pretty lame I think, but right now, I've got nothing.
I don't really have anything to add this week.  We have done a lot of running around, and went to the kids' classes on Tuesday and saw all of our friends, but other than that, we haven't done much at all. It's been pretty boring around here.  My darling kiddos were both sick last week, and the early part of this week was spent resting up.  Unfortunately, they love to kiss me a whole bunch, or in Charlie's case, eat me.  Today, I went to the doctor, and I too have strep throat.  Ugh.
On another note, pretty much all of our snow has melted.  We have rain projected for pretty much the entire week.
We are working on some home improvement projects right now.  John is putting up some more shelves in the garage, we bought a bunch more totes, and hopefully we can actually get more organized because there is an easier place to store things rather than sticking them all down in the crawl space. 
We ordered the kids' bunny and lamb pictures, and got our discs with the pictures from our whole family shoot.  I am so excited to share them with you, but the disc drive on my laptop won't work suddenly, so that is going to have to wait.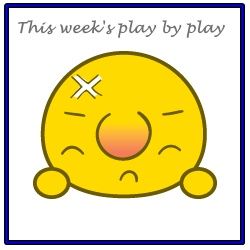 Posts you should read
Wordless Wednesday
Easter fun
1 is not a magic number
When clean isn't clean enough
Reviews
Zupers activewear shorts
Nursing bands
This weeks giveaways
BookLingual 6 ebooks 4/11 WW
 3 Nursing Bands 4/15 US/Canada
Zupers Activewear Shorts 4/16 US
 Birth Relaxation Kit 4/29 WW
 Lalabee Baby Essentials Prize Pack 4/20 US/Canada
$1500 in SKOY cleaning cloths 5/1 US/Canada
What has your week been like?  Anything new and exciting in your lives?