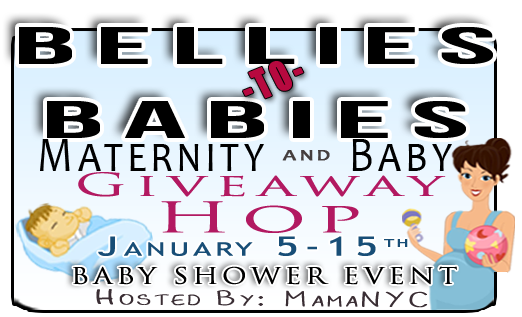 Bellies To Babies:
Maternity  Baby Giveaway Hop
Baby Shower Event Blogger Sign Up's OPEN!
Sign ups are now OPEN for the Bellies To Babies – Maternity & Baby Giveaway Hop baby shower event hosted by MamaNYC! I've already signed up for this event, but wanted to tell all of you about this event, which will run from January 5-15, 2013.
MamaNYC is expecting her second child and wants to celebrate the upcoming birth of her little girl with a giveaway hop event! It will be an event to remember as we party with prizes geared around maternity and baby as an "online baby shower" in January 2013!
All you have to do is add your blog name and URL to the linky, prepare a giveaway with a $25.00 prize value minimum, and include any necessary buttons, banners, and linky codes! There are NO pre-event requirements, such as sidebar buttons or pre-event promotional posts. 
EVENT NAME:  Bellies To Babies –  Maternity and Baby Giveaway Hop
DATES:  January 5-15, 2013
SIGN UP'S DEADLINE:  January 2, 2013  (11:59pm EST) 
FEE
:
FREE
  {with NO pre-event requirements!)