I'm excited to introduce you to another great sponsor

Susan is the woman behind Little Sweet Treats.  She started sewing just over a year ago on her Grandma's machine.  Her grandma died when she was 6 and she wanted to sew like she did.  Lucky for her, she has her grandma's talent.  When Susan began making cloth diapers, it started because somebody on youtube found out they were pregnant and they cloth diapered.  She had been following them for a long time and wanted to send them a baby gift – a bunch of cloth diapers!  That mother was the one who got her started with Little Sweet Treats.  She started it this last winter in order to get more money for fabric and for college.  She also makes clothing for a little girl she babysits for.  She even made her own high school graduation dress! 
I was really excited when she said she would send me a newborn package to review!  Newborn fluff is absolutely the best!!!!!  The diapers and blanket that she sent were waiting for us when we got home from the hospital and are super adorable! 
We use the blanket practically every day. The blanket is so soft!  And such a great size.  It is made of super soft minky fabric and is 31 x 38.5.  We love the neutral color that makes it perfect for both Maggie and Charlie.  This was Charlie's first blanket, but Maggie is the one who loved it the most I think.  She loved the fun ABC pattern.  She will point to the letters and ask what they are.  She loves naming the animals too, so we have lots of learning fun with Charlie's blanket.  For Charlie, the blanket is so soft on his delicate skin.  I love to wrap him up in the blanket to nurse him or to warm him up and help him fall asleep easily.  The size of the blanket also makes it perfect for laying on and playing which is great for us!  We have two dogs that shed, so we don't just lay on the floor and play without a blanket.  Plus, it is a perfect size for Maggie to lay down and cover up with. 
Susan definitely has her grandma's talent.  You can see the flawless stitching in both the blanket and the diapers.  All the way around, the stitching is straight.  Plus, after a bazillion washes because of pee or spit up or dog hair, the blanket still looks like new!  
The diapers are velcro closure with velcro all across the front, and tabs of velcro on the wings.  We received the monkey and owl prints and love them!  They are so cute and we LOVE animals!  These are all in one diapers with the soaker sewn completely into the diaper from front to back.  There is elastic at the back and the legs of the diaper.  The diapers are made of a thick PUL on the outside and flannel on the inside.  The soaker is made up of 4 layers of organic bamboo jersey.  Plus – instead of having a snap down for the cord stump, these diapers are sewn in an almost heart shape for the cord stump so it won't irritate baby.  I love how trim these diapers are.  They are thin and fit great under his newborn clothes.  They also held up to his breastfeeding poops without leaks. 
You can see that the velcro is wider on the tab than on the front of the diaper
The heart shape cord stump cutout and the front velcro
The completely sewn in soaker
These diapers are some of the smaller ones in our newborn stash, and fit perfectly from day one.  They were also some of the first ones he outgrew.  The diapers are made to fit to 12 pounds which is great!  Because of Charlie's chunk of a body, they didn't quite fit until 12 pounds, but it wasn't much before that when we had to quit using them.  His belly just got too big!  The soaker is really absorbent, but because Charlie is a heavy wetter, they would not last more than two hours which is fine because he is changed that often anyways, but made them a definite no-no for nap time.  The velcro tabs on the wings are wider than the velcro on the front of the diaper allowing for a little different positioning of the wings, although if you end up positioning it with the extra tab velcro above the front velcro, it can irritate the little ones skin. There aren't laundry tabs for the velcro, so it worked best for me to just velcro it to the front. Then I would turn it inside out as I threw it in the wet bag or washer.  
We LOVED our Little Sweet Treats diapers and blanket so much.  The blanket will be used for a long time for all of my babies!  I was really bummed when the diapers didn't fit anymore, but they got a lot of use.
I hope you will head on over to Little Sweet Treats and pick up some fabulous goodies of your own!  You will love your fluffy goodness!  Thank you Susan for the chance to use your fluff!
Here is a picture of what I really want to get!  The doggy designer wipe container.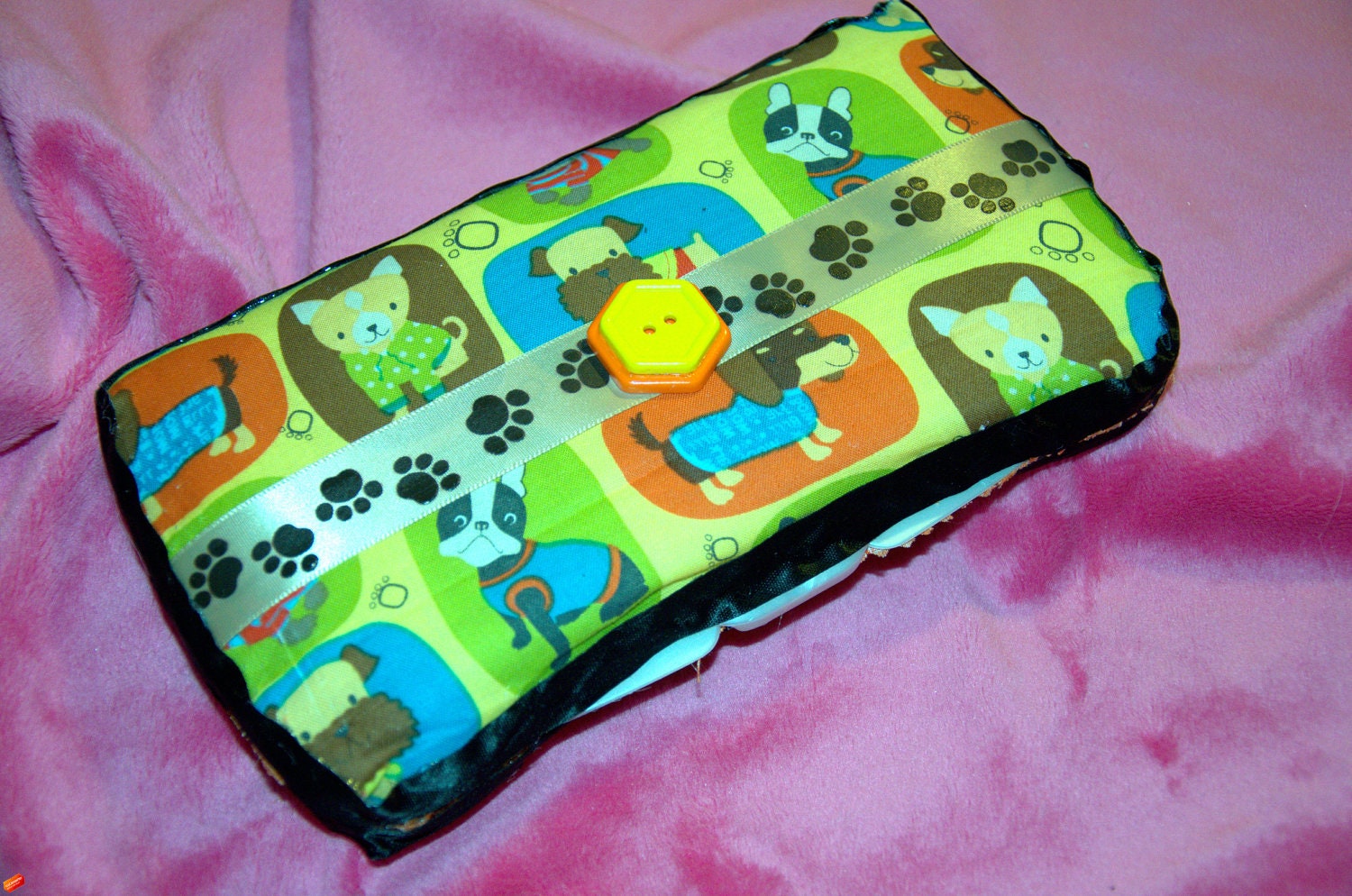 Shop
–
Facebook
Besides
cloth diapers
, you can get
mama cloth
,
wipes
,
wipe cases
,
diaper cakes
and yes –
custom diaper
orders!
To make it even more exciting – Susan has offered to give one of you lucky winners $25 to spend on whatever you choose at Little Sweet Treats! Be sure to sign up for email updates so you don't miss out on this great prize!
*Disclosure:  I received these products free of charge for the purpose of this review.  All opinions are 100 % my own and only influenced by my experience with the product and shop owner and may differ from yours*