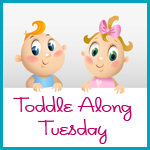 I am linking up again for Toddle Along Tuesday after quite a long time of not doing so. 
Once I saw this weeks topic though, I absolutely had to take part.  I wrote a post a few months ago on more love of Maggie and her doggies.  
When Maggie was born, we weren't sure how the dogs would react.  We have two dogs, our male, Buddy Boy is part Rott, part Lab.  Our female dog, Lady Jane is part Lab, part American Bulldog.  Both pretty big dogs.  Lady Jane has always been pretty good around kids, but had never been around a baby much.  John brought home the blankets from the hospital and left them for the dogs to sniff out before we all came home from the hospital.  
Now, Buddy Boy isn't a dangerous dog, but he has snapped at kids before, and some adults.  When John got him about 12 years ago, he was neglected, starved and covered in sand burrs, poor guy 🙁  He adopted him, tried finding his owner, but never did, good!!  They didn't deserve him back anyways.  He is 12 or 13 now and doesn't do well around too much activity.  Maggie is allowed to pet and love him, but only under very strict supervision.  I can't risk anything bad happening, so he doesn't get quite as much love and attention as Maggie would love to give him.
Lady Jane and Maggie are the best of friends!  Maggie feels that way about all dogs everywhere.  They are her favorite thing and probably the only thing she loves more than snacks!  
This picture was taken just the other day, poor dog!  Such a good sport.  Bad quality, but I think you can see Maggie has draped beads around the dogs neck.  She also makes her wear sunglasses, drives her cars on her, puts bunny ears on the dog…..tries to put cloth diapers on the dog.
Hanging out with Buddy Boy
Seriously, can you see how much she loves the dog!
She likes to sit as close as possible to Lady Jane, she sits on her then slides down.  If Lady Jane moves after Maggie sits by her, she will get up to go sit down by the dog again.  
Grandma and Grandpas dog, Abby, staring out the window with Maggie
Here she is in the kennel…no place is safe, sorry doggy!  
 I asked, Maggie, do you want me to read you that book….
Then she read the book, and as you can see, Lady is paying attention and looking at the pictures that Maggie shows her.  These two bring me so many laughs all day long!  
Thank you for such an awesome topic today!  I talk about stories from the two of them all day long.  I can't wait to see what Charlie is like with his doggies as he grows.  The day we brough him home, Maggie told Lady Jane to come over to the baby and kiss him.  So cute!  She isn't partial to any certain animal, she loves them all!
Yes, I am the mom that lets her kid kiss the fish!
What do your kids think of their pets?