Can you imagine if every baby was wearing cloth diapers?  What a cute, fluffy world it would be.  I won't say we "need" more cloth diapers, but they sure are fun to have, especially when it is a bit different from most diapers we have now.   I will always have my favorite diapers, but you never know when a different style will be the perfect fit, so I was more than happy to review an All In Two diaper from Imagine Baby Products.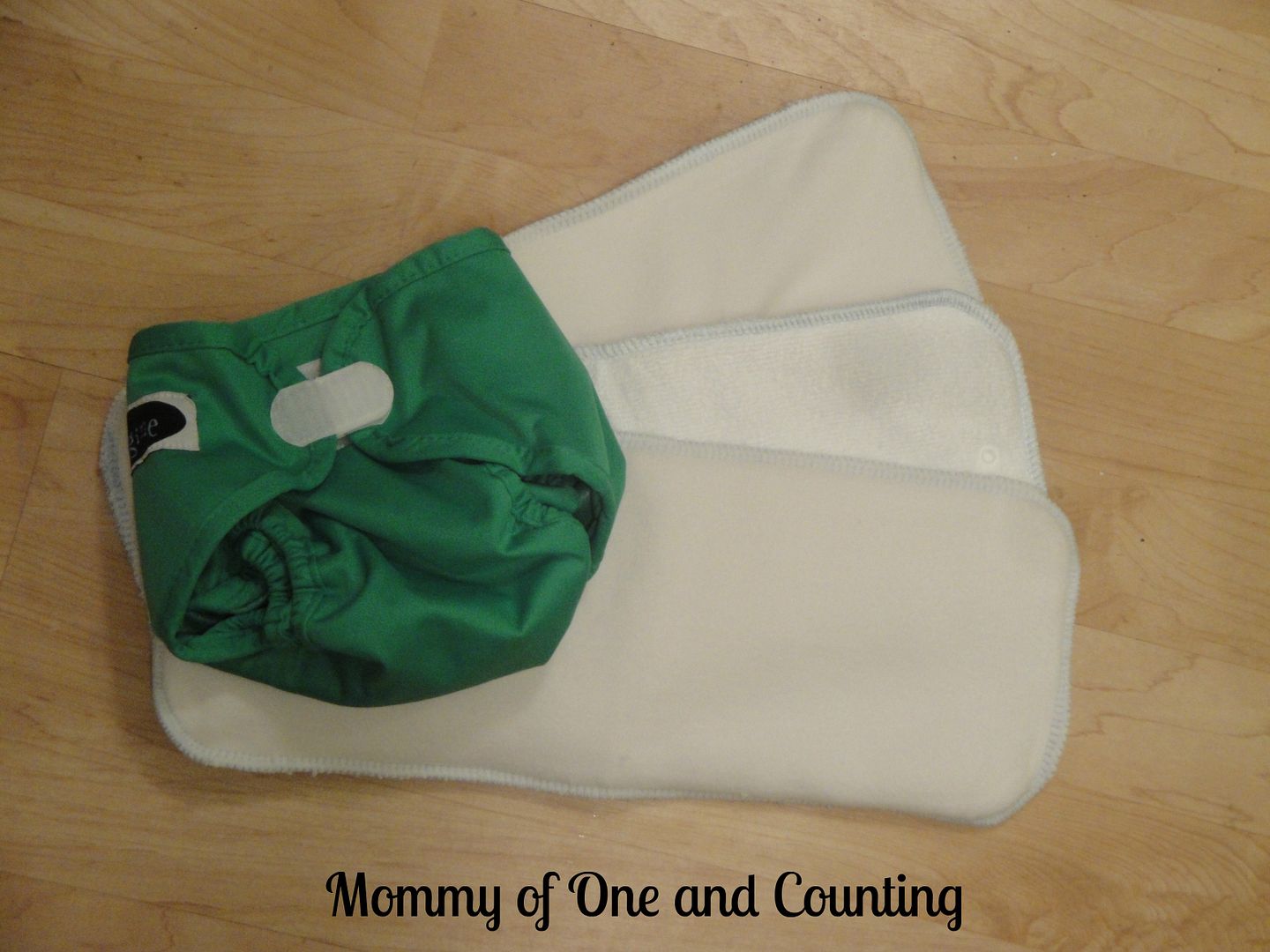 The All In Two comes with a diaper shell and 3 inserts.  When the diaper is wet, you change baby, wipe the shell clean, and snap in a new insert.  I have found that this is great to take in the diaper bag because it takes up less room than many of our other diapers.
The shell is made with durable PUL to contain wetness.  There is a front flap and a back flap to cover the ends of the insert and give added wetness protection.  This is a great feature.  You don't have that little peekage out the back that causes wet clothes.  There is a snap under each flap where you can snap the inserts in so they stay put.
We received the velcro diaper but you can also get snaps.  The velcro on this diaper is a strip across the front of the diaper so you can get a customized fit no matter what waist size.  The velcro wing tabs also have the ability to crossover for teeny waists.  There are laundry tabs on each side of the diaper wings to attach the velcro during the wash or whenever baby isn't wearing them.  While it definitely to prevent laundry chains, our tab on one side is wearing and pulled lose in one spot.  It still works and to be honest, I think every single velcro diaper I own has had this problem on at least one of the laundry tabs.
There are extra gussets on the leg area of the cover which allows for a great fit but also a lot of stretch.
There are 3 different rise setting options; small, medium, and large to fit babies from 8-35 pounds.  There are 3 snaps across to keep the diaper from drooping in the center.  To adjust the rise, simply snap the rise snaps up or down.  The shell is available in 5 bright, fun colors.
The inserts are made of 4 layers of microfiber topped with super soft fleece.  They are available in two different size, size 1 fits 8-19 pounds and size 2 fits 20-35+ pounds.  I really like that they are available in two different sizes so that when you have the rise fully snapped down, it doesn't end up all bunched up.  After many washes, they are still very soft.
If you are anything like me, you may have put off diaper laundry just a tad too long and then are in a hurry and have no clean diapers.  That's one of the great things about the Imagine All in Two diapers – both the shell and the inserts dry very quickly.
Check out the video review
http://www.youtube.com/watch?v=2-cEivjUTGE&feature=share&list=UUSbVVXcz410zJUTVEOINXcg
Imagine Baby Products was started by Nicki of Nicki's Diapers and Best Bottom Diapers. She wanted to help educate people about cloth diapers, and give people a chance to own their own business without all of the hassle. The Imagine Advocacy Program is designed for those parents who want to see cloth on every baby. You can help make that happen and earn free diapers! Win-Win, right?  Become an advocate now and earn FREE diapers!
Buy it now:  You can save 5% off of your order right now with code.MOMMYOFONEANDCOUNTING.  Ai2 not your style?  Imagine Baby Products also has newborn diapers, fitted diapers, covers, all in ones, and prefolds.  Find whatever you are looking for in a cloth diaper.
Have you tried an All In Two diaper before?  Which feature or color of the Imagine All In Two diaper do you like best?
*I received the above mentioned product for the purpose of this review.  All thoughts and opinions are 100% my own and may differ from yours.*