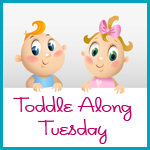 How can I only pick one activity!  Let's face it, I can't!  Maggie definitely has her favorites though and the top of that list is playing with the dog!  She will chase her all day long.  She drags her toys over, sits on the dog and slides down so that she can be as close as possible and plays.  They are best friends already, it's so awesome to watch!
Her next favorite activity is playing with her baby dolls.  She feeds them her snack, gives them her sippy, gives them the doll bottle, puts her cloth diapers on them, and sometimes makes me hold them and hold the phone to their ear.  Watching her do all this makes me certain that she will be a great big sister in  a few months!  She pushes them in the stroller, puts them on the dog, gives them hugs and kisses.  Sometimes, the baby dolls have to sit at the table with us and go down the slide.  She has a great imagination and it's fun to watch her play pretend and learn stuff every day.  I'm still waiting for her to breastfeed her babies!
Teaching her baby to walk
The other activity I catch her doing more and more and LOVE is reading!  We read a lot.  Her new favorite book happens to be one of my favorites as well….How about a kiss for me?  This book has lots of animal pictures and that is a plus for her.  She will turn the pages one by one (in paperback, I think she's so cool) and kiss the animals after I read it.  The last few days, we have probably read it at least 20 times a day.
Maggie and Mommy reading our favorite book
I could go on and on with things that she loves, because I haven't mentioned playing outside, dancing or throwing balls but I will stop here.  She is a very curious little girl and works hard at the things she does.  I love watching her grow and learn every day!